SCOTUS Justice Elena Kagan gives an interview to Politico: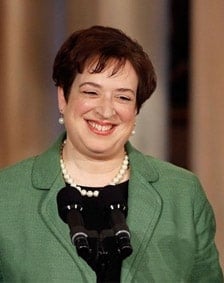 Saying she genuinely "loves" her colleagues, Kagan praised her frequent intellectual opponent, Justice Antonin Scalia – with whom she revealed she spent three days hunting in Wyoming this fall. Asked to discuss how she interprets the language in laws the justices consider, Kagan credited Scalia with changing the direction of the court.
"This is in some ways a testament to one of my colleagues, to Justice Scalia, because if you look back 30 years ago … there was much less attention paid to the words Congress used to write a statute," Kagan said. "One of the terrific things he has done is to make people engage with the words that Congress actually used, because that's what they thought about and that's what they actually passed."
In what may have been a reference to upcoming cases such as two on gay marriage that the justices this month agreed to hear, Kagan was asked what role public opinion plays in the justices' opinions.
                                                                                                           "Well, I don't think any of us make our decisions by reading polls," Kagan said. "One's sense of what to do as a judge is bounded in some way by the society in which one lives" and the political process of getting appointed, she said.
Still, the justice said, "One does think long and hard as a judge — and I'm not sure I've ever been in this position –… before you do something that you think is required by law that would be incredibly disruptive to society, and that's where great wisdom is called for."