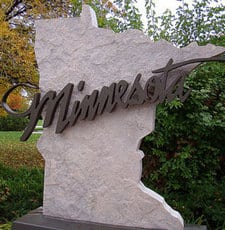 Now that Minnesota voters have rejected an amendment constitutionally defining marriage as one man, one woman, activists and allies in the Democratic-Farmer-Labor Party there say they plan to push for full marriage equality early next year.
"This kind of closes the loop of the election," said Rep. Alice Hausman, DFL-St. Paul, who looks to carry same-sex marriage legislation in the House.

Hausman, like Sen. John Marty, DFL-Roseville, who plans to carry a same-sex marriage bill in the Senate, points to the failure of the Republican-sponsored marriage amendment last election as evidence of the state reaching a consensus on same-sex marriage.

A conversation has taken place, they argue.

"To me, I think the time has come," said Marty, who has sponsored same-sex marriage bills in the past.
Hausman and Marty believe that since about 20 GOP-dominated districts voted against the anti-gay measure in November, and considering that Democratic Gov. Mark Dayton supports marriage equality, this should be a no muss, no fuss process.
But not all their party peers agree: Senate Majority Leader-designate Tom Bakk told Star News he thinks lawmakers need to focus on the budget, not marrying people off: "I still think we need to have a pretty significant conversation around the state on that (same-sex marriage) subject."
And Republicans there seem ready for a fight, too: House Minority Leader Kurt Daudt is already accusing the DFL of flip-flopping on their political intentions. "What the DFL's message (in the election) was, is that we shouldn't be focused on divisive social issues," he said.