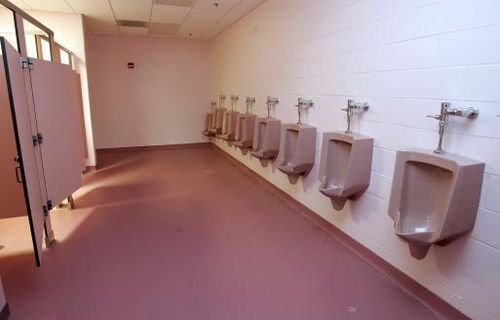 Iowa residents Brian and Mary Lohse are using $3 million of their recent $202 million Powerball win to build a new football stadium for their son's high school team, The Blue Jays, which is a nice and generous.
They had a not-so-nice stipulation, though: the opponents' locker room must be pink, to, as Mary Lohse said, "put them in a certain soft frame of mind."
From the Des Moines Register:
As for the pink locker room, that was Mary Lohse's sense of humor kicking in with an undying love of the Hawkeyes.

"I was sort of half joking and half not I suppose, but they said they'd do it," Mary Lohse said of her scheme, inspired by the University of Iowa visitor's locker room of the same color (pictured).

"It's supposed to put them in a certain soft frame of mind … it will certainly give all the players something to talk about," she said.
This development comes after Ohio State University football coach Urban Meyer apologized in March for punishing team members by making them wear lavender jerseys to shame them.
As the reader who sent this along pointed out, if the Lohse family wants to engage in these kind of mind games, why not just go the extra step and write gay slurs on the locker room's walls?