Glee and American Horror Story creator Ryan Murphy and photographer husband David Miller received a very special Christmas gift: a baby boy.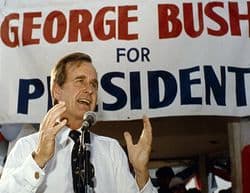 88-year old President George HW Bush remains hospitalized with a high fever after being checked in with a "bronchitis-like cough" before Christmas.

94-year old former South African President Nelson Mandela has been released from the hospital following his own health scare.

  Uruguay's Senate has postponed their marriage equality vote until April.

Ellen DeGeneres and wife Portia de Rossi like long, kiss-filled strolls on the beach in St. Barts.

Jay Leno throws a snowball at Chick-fil-A.

Here is the first song ever recorded in space.

After previously balking at the suggestion, Democratic NJ Assemblyman Reed Gusciora now says he wants to put marriage equality to a popular vote.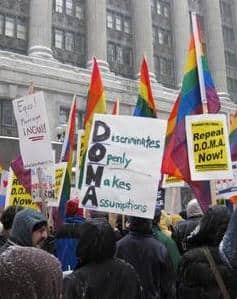 US Rep. Richard Hanna,
a Tea Party backed Republican from New York, today announced that he
opposes DOMA. "The simple fact remains that the federal government has a
responsibility to ensure all legally married couples are treated
equally under federal law," he said. Hanna is only the second sitting
GOP congressperson to say DOMA needs to be repealed. Ileana Ros-Lehtinen was the first.

Biogen, a drug manufacturer that specializes in multiple sclerosis
treatments, will "gross up" pay to make up the difference for gay and lesbian married couples who suffer financial punishment under DOMA, the government's refusal to recognize same-sex marriage.

British High Court judge Sir Paul Coleridge blasted Prime Minister David Cameron for pursuing marriage equality, something he calls a distraction that only impacts ".1%" of the population. "[Gay marriage] is a minority issue. We need a much more focused position by the Government on the importance of marriage," said Coleridge, who created his own non-profit to fight divorce.

Meanwhile, Conservative Party chairman Grant Shapps defended the Tories' equality push. Though some critics want to see a ban on fox hunting pass first, Shapps says they simply don't have the votes in Parliament; marriage is a much easier win, he said: "It makes sense to bring something forward if you think there's a chance of there being a parliamentary majority and at the moment there doesn't appear to be one… There probably is a parliamentary majority for gay marriage."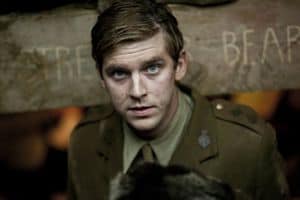 Say so long to Dan Stevens on Downton Abbey.

Neil Patrick Harris and David Burtka spent hours putting together a lovely train set for their son but he ended up just wanting to play with the broom. At least he's putting himself to good use, right?

Les Misérables did big business on Christmas: about $18 million opening day and number one at the box office.

DC gay bar Omega Nightclub had its last call.