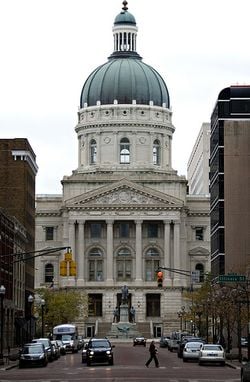 As Indiana Republicans say they'll move forward with plans to constitutionally ban same-sex marriage, a new poll shows that a majority of Indiana voters are against such a negative move.
From the Indianapolis Star:
The poll, taken for the Bowen Center for Public Affairs at Ball State
University and WISH-TV, found that 54 percent of those surveyed oppose
changing the state constitution to bar gay couples from marrying, while
38 percent support doing so.

…

The Indiana House and Senate voted in 2011 for a proposed amendment that
not only bans same-sex marriage but also prohibits civil unions or
anything else that is similar to marriage. It must vote to approve the
identical language again in either the 2013 or 2014 legislative sessions
in order for voters to make their decision in the 2014 general
election.
That's a lot of time for a Supreme Court decision or grassroots activism to convince Indiana lawmakers looking championing the discriminatory amendment that they're on the wrong side of history.