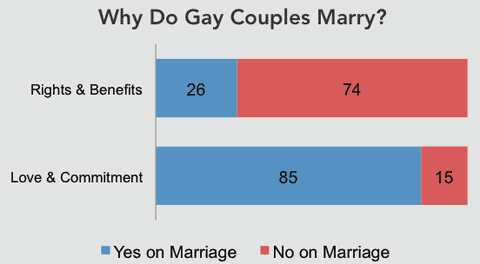 Earlier I cited centrist Democratic think tank Third Way's poll on marriage equality support in Washington, where same-sex marriages just got underway. Well, that report, showing that framing marriage equality as a matter of love, rather than rights wins the fight, is now out.
Here's a telling excerpt about movement among political lines:
The victory for marriage in Washington State was delivered by voters well outside the usual liberal base. Centrist voters supported the marriage refer- endum by large margins, with 66% of moderates voting yes, as well as 59% of Independents.
…
Unlike past elections—including Proposition 8 in California, where Democrats had trouble consolidating their own base in favor of marriage—this time 80% of Obama voters pulled the lever for marriage, as well as 86% of Democrats. Even 79% of moderate and conservative Democrats voted in favor of marriage for gay couples, as well as 38% of liberal and moderate Republicans.

The biggest takeaway of the marriage vote in Washington is that the center is now squarely on the side of marriage advocates. The striking margins of sup- port for the referendum among moderates (+33) and Independents (+21) are indisputable, and they mark both a significant shift and a tipping point for the country on this issue.
Also, a breakdown of who was for and against marriage: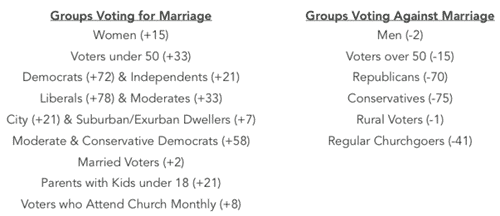 Here's a
PDF of their report, as well as a
PDF of the core findings.