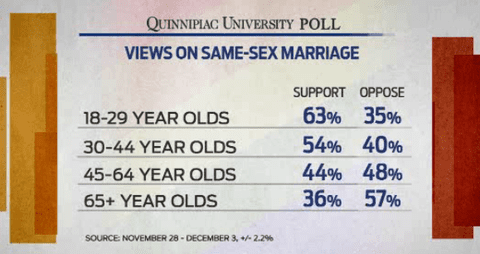 The crew from MSNBC's The Cycle spent some time yesterday afternoon discussing a new Quinnipiac University poll that shows significant shifts in support for same-sex marriage among demographics once vehemently opposed, including men and White Catholics, the latter of whom now support equality 49-43.
From the poll's press release:
Voters today are divided 48 – 46 percent on the issue of same-sex marriage, reversing the55 – 36 percent opposition to same-sex marriage in a July, 2008, survey by the independentQuinnipiac (KWIN-uh-pe-ack) University. White Catholics support it 49 – 43 percent

…

On same-sex marriage, the biggest change over the past four years has been among men.In 2008, they oppose gay marriage 61 – 31 percent. Now they oppose it 50 – 43 percent, a 23-point shift over the past four years. Women, who had opposed it 51 – 40 percent in 2008, nowback it 52 – 42 percent, a shift of 21 points. White Protestants are opposed 63 – 32 percent.

"It seems pretty clear that attitudes toward same-sex marriage in American society arechanging rapidly. While the country remains split on the issue, supporters have come pretty farin the last four years," said [Peter A. Brown, assistant director of the Quinnipiac University Polling Institute]. "Since voters 18 to 29 years old support same-sex marriage63 – 35 percent, once again we see it's just a matter of time."
Can the GOP bring these youngsters into their increasingly stodgy fold? Will the GOP finally embrace equality, or pick a less inflammatory social issue, like marijuana legalization? And where do the Evangelicals fit into all of this?
The Cycle hosts attempt to answer these questions and more AFTER THE JUMP.