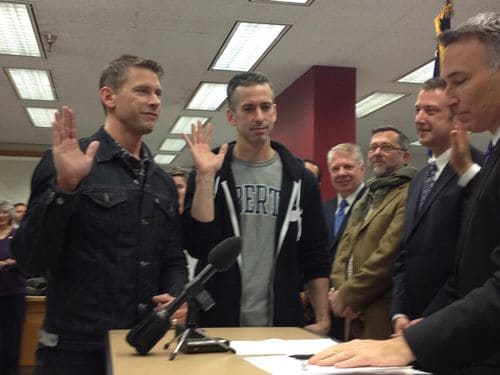 Dan Savage and husband Terry Miller tied the knot in Canada in 2005, but now that same-sex marriage is legal in Washington State, the men are ready for another go.
A reader passed along these shots of gay and lesbian couples receiving their wedding licenses this morning, the first day they've been available, and Savage and Miller were one of the first couples there.
"It's really a remarkable journey we've been on and such a remarkable sea change," Savage told the Seattle P-I. "And not just for gay people, but straight people have changed, too. It's gotten better for us because straight people have gotten better about us."
In light of the legal change, Savage has helped organize the transformation of Seattle City Hall to host free weddings this Sunday.
Check out a few more shots of couples receiving their Washington state marriage licenses AFTER THE JUMP.
[Above image via Slog]