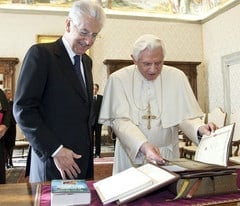 One has to assume Italian Prime Minister Mario Monti's pals at the Vatican weren't pleased with his previously laissez-faire approach to marriage equality, because the lawmaker, up for reelection, has changed his tune.
Monti surprised observers earlier this month by saying that marriage equality was up to the Parliament and only the Parliament. Now he's saying, "never mind:" families should only be one man, one woman and their offspring.
"My thought is that the family should be made up
of one man and one woman, and I consider it necessary that children
should grow up with a mother and a father," Monti said yesterday, according to Reuters, marking the first time he's brought up social issues during his bid to keep his post.
"Parliament can find other solutions for other kinds of unions and cohabitations."