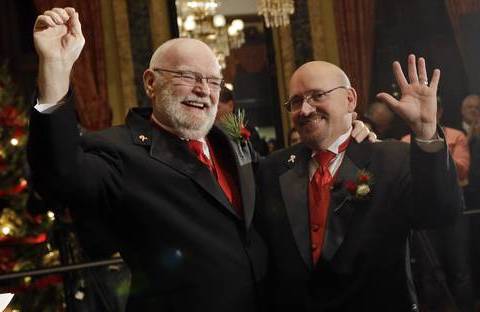 Maryland is now the ninth state where marriage equality is official, and it's the first below the Mason-Dixon line. James Scales and William Tasker were the first couple married at City Hall in Baltimore today, and the ceremony was presided over by none other than Baltimore Mayor Stephanie Rawlings-Blake.
"There is no human institution more sacred than that of the one that you are about to form," the mayor said. "True marriage, true marriage, is the dearest of all earthly relationships."
Prior to the ceremony, Scales, a 68-year old employee at the mayor's office, marveled at finally achieving his dream, telling the AP, "It's just so hard to believe it's happening." And there's no turning back!
Darcia Anthony and Danielle William, left and right below, also married at city hall in Maryland. Congratulations to all freshly married couples! (Oh, and a happy new year to everyone – married, single or otherwise! Thanks for reading!)