The New Journal reports that things are stirring in Delaware: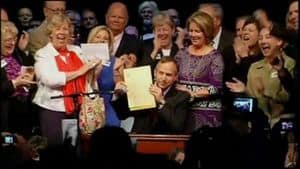 Equality Delaware, the advocacy group that won passage of Delaware's same-sex civil unions bill in 2011, this week ramps up its campaign for full marriage equality with meetings in New Castle and Sussex counties.
Hundreds of supporters are expected to attend the 5:30 p.m. gatherings – today at First & Central Presbyterian Church in Wilmington and Thursday at CAMP Rehoboth on Baltimore Avenue in Rehoboth Beach.
"We believe 2013 is the right time for marriage [equality] in Delaware," said Wilmington attorney Lisa Goodman, president of Equality Delaware.
Delaware Governor Jack Markell signed the state's civil union bill into law in May 2011. They went into effect on January 1, 2012.