ProtectMarriage.com, the group defending Proposition 8 before the Supreme Court, is deep in debt and struggling to raise funds to fight that case, not to mention its past debts, Reuters reports: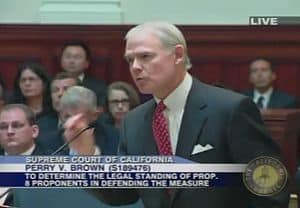 The 2012 accounts are not yet available. ProtectMarriage.com says it has since covered the 2011 shortfall. However, it is still $700,000 short in fundraising for its Supreme Court costs, according to a ProtectMarriage.com attorney, Andrew Pugno. That message has gone out to donors, with some urgency, as the Supreme Court prepares to hear arguments in March in its first thorough review of same-sex marriage.
"Unless the pace of donations starts to pick up right away, we could soon be forced over a financial cliff," ProtectMarriage.com said in an email to donors earlier this month.
ProtectMarriage.com's lead outside counsel, Charles Cooper, has not stopped work on the Supreme Court case, although he declined to comment on financial arrangements with clients.
Meanwhile, while they are being "vastly outspent" in races around the nation, Pugno tells Reuters that he does not believe that changing attitudes are behind the group's inability to raise funds.
"I don't detect a decrease in enthusiasm. What I detect is a certain degree of fatigue after having to essentially fight this issue non-stop since 2004, when the mayor in San Francisco started issuing marriage licenses."