The Rhode Island General Assembly has introduced marriage equality bills in each chamber, the AP reports: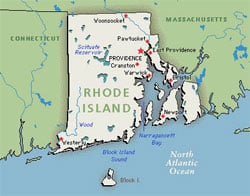 Democratic Rep. Art Handy of Cranston introduced his bill in the House Thursday afternoon. More than 40 members of the 75-member House signed on as co-sponsors.
Moments later, Democratic Sen. Donna Nesselbush of Pawtucket introduced her version of the legislation, which has 11 sponsors in the 38-member Senate.
House Speaker Gordon Fox has called for a gay marriage vote in the House this month. The measure faces a potentially bigger challenge in the Senate, however.