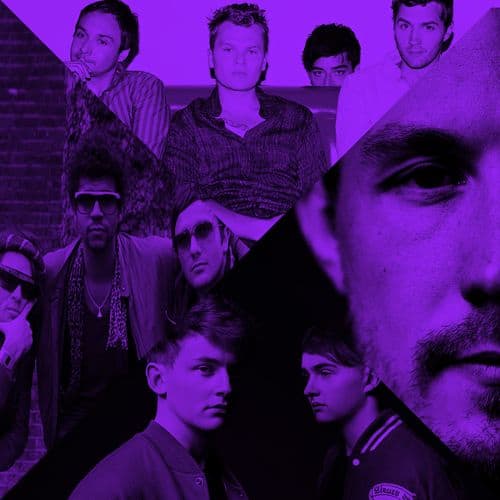 BY OCCUPY THE DISCO / JOSH APPELBAUM
The OXD Mirror is a weekly music column brought to you by the boys of OCCUPY THE DISCO (OXD), a New York City based movement created by three music lovers, Ru Bhatt, Josh Appelbaum, and Tadeu Magalhães, who want to share their love for disco, house and dance music with the gay world.
Disclosure: 'White Noise ft. AlunaGeorge'
There's nothing I love more than seeing two buzzworthy up-and-comers team up to put out some great work. Disclosure has been teaming up with talented vocalists like Sam Smith to create sexy, garage house-inspired tracks like their latest hit 'Latch,' which climbed up to #11 on the UK singles charts.  After burgeoning popularity with their original tracks and with remixes for artists like Jessie Ware, they've teamed up with Aluna Francis, lead singer of the hot electronic duo AlunaGeorge,  to create a fun, upbeat dance track that will keep your feet moving.
The Embassy: 'Related Artist'
Swedish duo Embassy have a knack for creating breezy indie-pop tracks inspired by the likes of Elvis Costello and Saint Etienne.  Their latest single, 'Related Artist', combines guitars, some bird noises and husky vocals to create an ethereal track that seems well-suited for a roadtrip playlist. 
Grizzly Bear: 'Gun Shy (Lindstrøm Remix)'
Grizzly Bear is a Brooklyn-based band, fronted by openly gay lead singer Ed Droste, who is known for their generally mellow and sweet sound and very tender vocals.  The band's most recent release, 2012's Shields, was widely acclaimed by music critics and reached #7 on the US Billboard 200.  'Gun Shy' is a track that does not stray far from Grizzly Bear's very mellow sound – until Norwegian producer Lindstrøm adds his blend of danceable synths and fun beats to the song.  Droste's voice lends itself nicely to this upbeat remix; perhaps some pop-inspired tracks could be a fun side project for the very talented Droste some day!
MORE NEW MUSIC, AFTER THE JUMP…
 Hot Natured: 'Assimilation'
House music super group Hot Natured is comprised of Jamie Jones, Lee Foss, Luca C and Ali Love and take inspiration from legends like Larry Levan, Aphex Twin and Kerri Chandler.  Their latest track 'Assimilation' features vocals from Ali and Art Department's Kenny Glasgow.  The slick vocals nestle in perfectly with the track's deep bass to create a sassy, very 90's-inspired house track that we continue to see more and more of with the rediscovery of the greatness that was 90's house music.
Kris Menace feat. Unai: 'Lone Runner (Aexl Le Baron Remix)'
Famed producer Kris Menace has remixed the likes of Depeche Mode, Lana Del Rey, LCD Soundystem, Róisín Murphy and had made quite a name for himself in the music business.  His new album Features recently dropped and 'features' (get it?) guest vocals from Miss Kittin, Simon Lord (ex-Simian) and friend to OXD/New York Nightlife personality Lawrence LT Thompson of the Kiki Twins. This particular cut featuring vocals from Unai has a disco-pop feel suited perfectly for that playlist to get you going in the morning. For extra credit, make sure you revisit the  collaboration between LT and Menace I posted in June on Towleroad.
Chicken Lips: 'He Not In (Groove Armada's Dub Reconstruction)'
Though maybe not sporting the sexiest name out there, Chicken Lips has been putting out their own unique brand of house music since 1999.  They've remixed songs from artists like Robbie Williams, Mark Ronson and Tiga in addition to putting out some albums and compilations of their own.  Their latest track, 'He Not In', got a great treatment from one of my personal favorite group, Groove Armada. It's a deep house dub track for sure, and probably not for everyone, but it's perfect for that underground late night dance party you might find yourself at on a fun weekend 🙂
This week's post was written and curated by Josh Appelbaum.
For more information on OXD, check out our website and accompanying blog at www.occupythedisco.com, like us on Facebook, or follow us on Twitter: @OccupyTheDisco.