Just last month, Illinois Republican Chairman Pat Brady started calling on lawmakers to support marriage equality. At the time, Brady said: "Giving gay and lesbian couples the freedom to get married honors the best conservative principles. It strengthens families and reinforces a key Republican value – that the law should treat all citizens equally."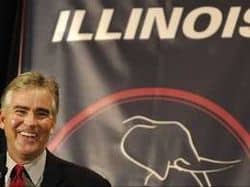 This led many Republicans calling for his resignation. Even NOM demanded Brady step down from his post.
Yesterday, Brady received a phone call in which he was told GOP leaders plan to meet next month to discuss his possible removal. All this because of his vocal support for marriage equality.
WBEZ reports:
Brady's ouster would require the weighted vote of three-fifths of the state central committee. The votes are weighted differently based on turnout in the March primary. Committeeman Jim Oberweis, a state senator, said there are enough votes to fire Brady.

"We'd have exactly the same reaction if suddenly Pat decided to talk about the merits of Obamacare," Oberweis told WBEZ Friday. Brady has said his position on gay marriage is personal, and that he wasn't speaking on behalf of the party when he made his original statement. He's since refused to step down.
Brady also spoke to Crain's Chicago Busine about the news:
"Absolutely not," Mr. Brady replied when I asked if he's willing to change his mind. "The more and more I talk to people, the more I'm convinced. (Allowing same-sex marriage) is the right thing to do."
The GOP meeting is scheduled to take place March 9.