The Illinois Senate could vote on marriage equality as early as 11 am CT tomorrow morning, the Windy City Times reports: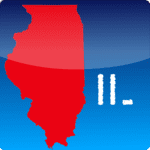 "I am always very conservative but we are pretty confident that it is going to pass," said Rick Garcia, policy director of The Civil Rights Agenda.
The bill comfortably passed out of the Senate Executive committee last week. LGBT leaders say they are confident about its chances in the Senate tomorrow.
Bernard Cherkasov, CEO of Equality Illinois, said that supporters need to continue push their Senators to support measure regardless. "The stronger we pass it in the Senate, the more momentum we have going into the House," Cherkasov said.
The house is expected to be the more difficult hurdle.
The live Illinois Senate audio/video feed can be found here.