It looks as though Indiana lawmakers will be delaying a vote on a proposed constitutional amendment to ban same-sex marriage, the Evansville Courier Press reports: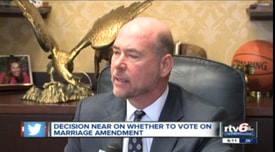 The Republican leaders of the Indiana House and Senate said Thursday that they'll announce their plans to handle the proposed amendment next week. If it passes either this year or next, voters would get the final say through a November 2014 referendum.
Most of the members of the legislative committees that would cast the first votes on the measure – including Senate Judiciary Committee Chairman Brent Steele, R-Bedford – told RTV6's reporting partner the Courier & Press they prefer to wait until the high court rules.
That's largely because if lawmakers approved the amendment this year, they couldn't tweak its language in 2014, even if the Supreme Court determines that all or portions of it are unconstitutional.
Watch an RTV report on the decision, AFTER THE JUMP…