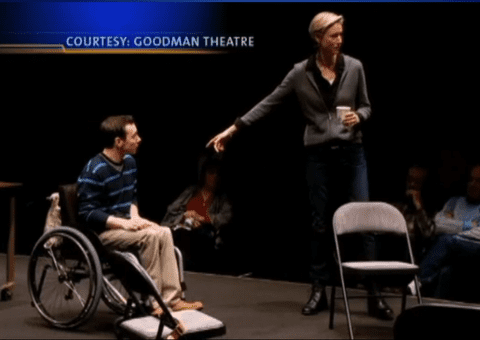 From the horrid sarcasm coming from the Alaska GOP to the hateful salesmanship in France, this morning's news has been a bit of a bummer. To pick us all up a bit, here's a story from Chicago about a play, Teddy Ferrara, dedicated to fighting the discrimination faced by both gay people and people with physical disabilities.
From Chicago's ABC-7:
Chris Imbrosciano, 28, plays Jay, a gay student in a wheelchair.

"He's very involved in university issues,' said Chris. "He is really sort of always searching for the truth about this incident that happens on campus that sort of sends everyone's life into a tailspin."

Chris, a professional actor, has cerebral palsy.

"It affects my gate. It affects my walking. It's visible in a limp, and that's pretty much it," he said.

Chris has been acting for a number of years.

"They found me through a nonprofit in New York City called Alliance for Inclusion in the Arts that sort of serves as a database for performers with disabilities," said Chris.

"Teddy Ferrara" director Evan Cabnet says playwright Christopher Shinn's goal was to address issues of a group of students dealing with coming of age.

"They become adults as they leave home and involved themselves in university life with different and more complicated — not problems necessarily — but challenges to overcome," Evan said.
Watch video of Karen Meyer's report AFTER THE JUMP.