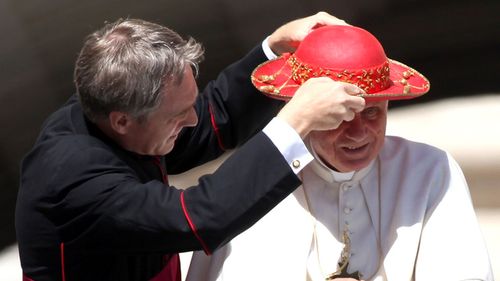 Talk of Pope Benedict's close relationship with his "personal secretary" Georg Ganswein has been around for some time. I wrote about it HERE six years ago.
Andrew Sullivan examines the Pope's uber-gay retirement arrangements:
The only thing the Pope will give up, apparently, are his red Prada shoes. He has some fabulous brown leather artisanal ones to replace them. But this is what really made me sit up straight, so to speak:
Benedict's trusted secretary, Monsignor Georg Gänswein, will be serving both pontiffs — living with Benedict at the monastery inside the Vatican and keeping his day job as prefect of the new pope's household. Asked about the potential conflicts, Lombardi was defensive, saying the decisions had been clearly reasoned and were likely chosen for the sake of simplicity. "I believe it was well thought out," he said.
So Benedict's handsome male companion will continue to live with him, while working for the other Pope during the day.
Adding:
This man – clearly in some kind of love with Ratzinger (and vice-versa) will now be working for the new Pope as secretary in the day and spending the nights with the Pope Emeritus. This is not the Vatican. It's Melrose Place.
Business Insider chimes in:
Sullivan isn't exactly alone in his suspicions. He points towards a book by Angelo Quattrocchi (playfully titled "The Pope is Not Gay") that he felt reached similar conclusions. In addition, former Benedictine monk-priest and author Richard Sipe claims to have spoken to a number of Roman clerics and members of the Roman press corps who were "convinced" that Benedict XVI was gay.
Of course, it doesn't help the rumors that Ganswein has become something of a star in his own right. He's been dubbed the "The George Clooney of the Vatican," and appeared on the cover of the Italian Vanity Fair under the headline "It's no sin to be good looking." Donatella Versace has even dedicated a menswear collection to him.
Gawker visually documents the rumored secret boyfriend and his Pope.