The Tampa Bay Times reports that, according to a survey of players, the Tampa Bay Lightning hockey team would support an openly gay teammate.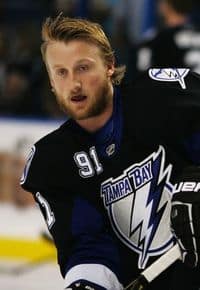 A couple of examples of supportive comments made by the 22 members of the NHL team who responded to the survey:
Center Steven Stamkos: "Not everyone has to agree with it, but if someone in our locker room you were a friend with would come out, for me, personally, I wouldn't have a problem with it. He's still a teammate. He still has your back on the ice. That's just the way it is."
Right Wing Teddy Purcell: "We're a team, a family. We don't look at anybody different like that. Everybody is different. Some guys like cars; some like trucks. You don't really care. As long as he's a good team guy and helps us win, we'll take anybody."
23 of the team's players were involved in the survey but one was not available to respond.
Retired Boston Red Sox pitcher Curt Schilling has also expressed his strong support for gay players. He tweeted:
"…I've never understood this 'issue' with gay players? Who cares? I know I played with some, their sexual orientation never had much to … To do with how they hit with RISP, or pitched in late and close situations, why the hell would what they do in the bedroom ever matter?"