A bakery in Oregon has refused to sell a cake to a lesbian after finding out it would be used for her wedding. Aaron Klein, one of the owners of the husband and wife-run Sweet Cakes by Melissa says he does not believe in same-sex marriage.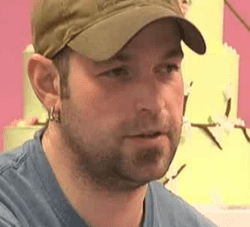 Via King 5 News, Klein recounts the episode when one of the brides-to-be came in to order the cake with her mother:
"My first question is what's the wedding date," said owner Aaron Klein. "My next question is bride and groom's name … the girl giggled a little bit and said it's two brides." Klein apologized to the women and told them he and his wife do not make cakes for same-sex marriages. Klein said the women were disgusted and walked out. "I believe that marriage is a religious institution ordained by God," said Klein. "A man should leave his mother and father and cling to his wife … that to me is the beginning of marriage."
Klein says he does not hate gays and sells them items from his store everyday – just not wedding cakes.
"They can buy my stuff," said Klein. "I'll sell them stuff … I'll talk to them, it's fine." What is not fine, according to Klein, is a marriage between people of the same sex. He will always stand by that conviction. "I'd rather have my kids see their dad stand up for what he believes in then to see him bow down because one person complained."
Since this violates one of Oregon's anti-discrimination laws, the Oregon Department of Justice is currently investigating the incident.
Watch news segment from King 5, AFTER THE JUMP.