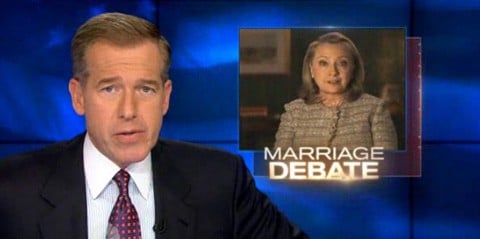 NBC News covered Hillary Clinton's marriage announcement on Monday night with a segment looking at her evolution on LGBT rights.
Watch it, AFTER THE JUMP…
Today, ABC News asks, "Have the Clintons and Gay Activists Made Up?"
While the headline of the piece may be a bit misleading, the article points out the two very different paths Mr. and Mrs. Clinton have carved for themselves on gay rights:
Washington Post columnist Jonathan Capehart suggested that, in disowning DOMA, Bill Clinton should have apologized for signing it in the first place.
"As welcome as Clinton's words are, there are two that are conspicuously absent: I'm sorry," Capehart wrote. "Sorry for signing the bill. Sorry for crowing about it in radio ads on Christian radio stations during his '96 reelection campaign. Sorry for the harm it has caused same-sex couples and the income inequality it exacerbates."…
But while anger at Bill Clinton has simmered or fizzled, Hillary Clinton does not appear to be suffering the ill effects of her husband's troubled relationship with gay activists.
"As a secretary she took very strong positions and was a strong advocate and spoke all over the world, and I actually think that people see her as her own person," Lambda Legal Executive Director Kevin Cathcart told ABC News, referencing Clinton's work to promote gay rights internationally as Secretary of State.
Visit NBCNews.com for breaking news, world news, and news about the economy