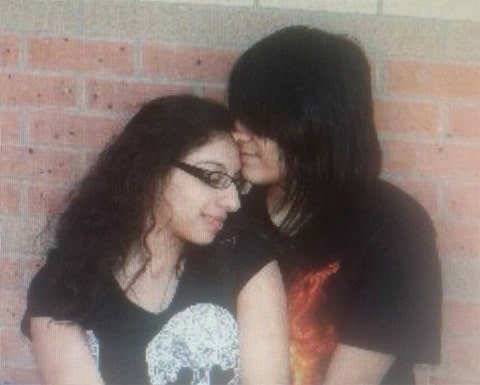 San Antonio's Brennan High School is under fire for removing an affectionate photo of Felicia Rivera and Lalani Hernandez, a lesbian couple, from the Valentine's Day page in the school yearbook, KENS5 reports:
Rivera is lesbian. She said recently a school photographer snapped a photo of her holding her girlfriend on campus.
The photo was selected for the Valentine's Day page but was later rejected. Rivera said it was removed only after the yearbook supervisor discovered the picture showcased a lesbian couple.
"You shouldn't be discriminated against just because you're gay," Rivera said. "You shouldn't worry about people bashing you or talking behind your back just for you to be you."
Rivera's father, Felix, encourages his daughter to be herself and he's behind her 100 percent as she tries to have the photo reinstated. Felicia has gathered about 200 student signatures calling for the photo to be placed in the yearbook.
Watch their report and an awesome interview with the awesome dad, AFTER THE JUMP…