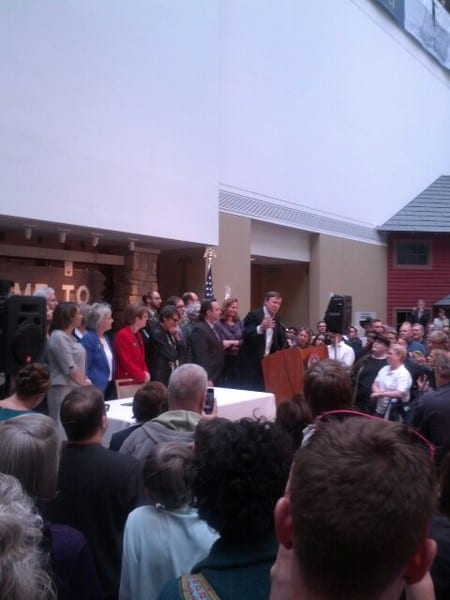 (image shannon haltiwanger – twitter)
Governor John Hickenlooper signed Colorado's civil union bill into law this afternoon at the History Colorado Center, the Denver Post reports:
House Speaker Mark Ferrandino, a gay Denver Democrat who backed the bill, said in prepared remarks:
"With the Governor's signature here today, the protection of Colorado's laws will now extend equally to all. Thousands of Colorado families will now be able to receive the recognition they deserve. "Ladies and gentlemen, the Colorado sun now warms all our people."
Brad Clark, Executive Director of One Colorado, released the following statement:
"In every corner of Colorado, same-sex couples have been waiting for 10, 20, and sometimes even 40 years to have access to critical legal protections that can help protect their families. Now, they finally do — thanks to the courage and leadership of Governor Hickenlooper and our state lawmakers. This historic victory belongs to the thousands of loving, committed couples across the state who have worked tirelessly for years to make it possible for their families, and all families, to have these important legal safeguards. For them, this moment was long overdue. But today, we also know that our work is not yet finished; our journey to full equality is not complete. Like so many others here in Colorado and across the country, I grew up with the hope of one day falling in love and making a lifelong promise to the one I love. We know that this promise is called marriage — not civil unions.
"While our state has an amendment from 2006 that prohibits same-sex couples from marrying, in the time that has passed, Colorado voters have shown they are ready for a conversation about the freedom to marry. Polls show that a majority of Coloradans support marriage for same-sex couples — part of a broader and undeniable shift in public opinion that we've seen across the country. Moving forward, as more and more Americans consider what it means to extend the freedom to marry to all loving, committed couples, we look forward to beginning an important conversation with Coloradans about why marriage matters to all families — straight and gay alike."