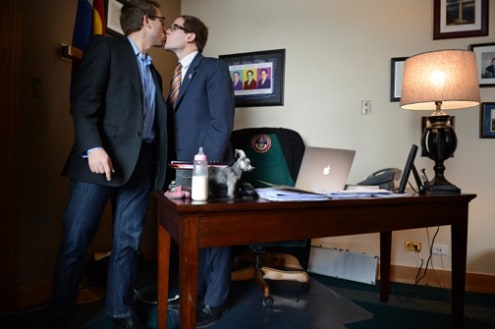 The Denver Post is polling its readers about running the above photo by their photographer Craig Walker of House Speaker Mark Ferrandino kissing his partner Greg Wertsch after passage of the civil unions bill in Colorado.
But getting even more commentary than the poll is the headline they originally accompanied the survey with, which now reads:
"Picture of Mark Ferrandino kissing partner shows the truth, even if it offends some"
Here's how the questionnaire was originally positioned:
Update 3:28 p.m.: After reading the comments, I'm altering the headline from "no matter how objectionable," to "even if it offends some." I've certainly dealt with some callers who are upset with the use of the photo, but my intent was not to label the photo (or the act) objectionable. As I've often said, everyone needs an editor, and I appreciate the comments. — Lin
Kudos to the Director of Newsroom Ops for changing it. Folks will also be happy to know that the comments are overwhelmingly in support of the photo, the couple, and pro-equality.