Former Polish President Lech Walesa won't be charged with a hate crime for saying gay lawmakers have no right to sit on the front benches in Parliament, calling them a minority who should be "behind a wall."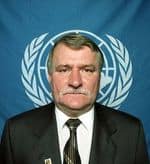 The AP reports:
[Walesa's remarks] prompted Ryszard Nowak, director of the National Committee for the Defense Against Sects and Violence, to file a complaint with prosecutors in Gdansk, Walesa's hometown. He said Walesa was promoting the hatred of a sexual minority.
But Renata Klonowska, head of the regional prosecutor's office in Gdansk, said Wednesday that investigators found Walesa did not commit a crime under Polish law.
Walesa may, however, lose the street named for him in San Francisco.