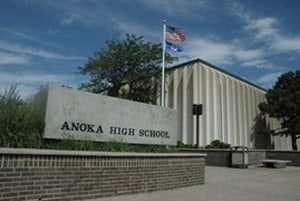 Minnesota's Anoka-Hennepin School District found itself in the spotlight after the federal government investigated officials and students for failing to protect gay students from bullying. The Southern Poverty Law Center and the National Center for Lesbian Rights also turned its attention to the schools in the form of a lawsuit challenging the school's "neutrality" policy on dealing with gay students.
It was that hands off approach that allowed homophobia and hate to run rampant and led, many argue, to the suicide deaths of at least seven students in the district between 2009 and 2011.
Now, one year after that suit was settled, and the school agreed to reform its policies, things are getting better. They're not perfect, but they're better. From the Twin Cities Gazette:
Brittany "Lane" Geldert says the district is "more livable now."

The Champlin Park High School sophomore, who identifies herself as bisexual, was one of the students represented in the lawsuit. Of those students, only she and Dylon Frei, an Anoka High sophomore, still attend school in Anoka-Hennepin.

Geldert said things feel different from the past, when she was regularly called anti-gay slurs and was harassed because she was a girl more interested in the rock band Tool than in fashion.

"It's starting to change; not drastic, but it feels more like normal high school now," she said.

She said she hasn't been bullied once this year at Champlin Park, nor has she seen other LGBT students harassed.

Geldert said a friend was told by a teacher she couldn't kiss her girlfriend in the hallway because it would "confuse" other students, but the teen reported it and the district handled it "right away."
Tuesday marks the official one-year anniversary of the settlement, which required the school to train teachers on federal laws pertaining to LGBT people, remind them that they're required to report harassment and every school in the district now has an official in charge of monitoring bullying in all of its various forms. And for the next five years, the Justice Department's will be checking in to make sure the district stays on the straight and narrow when it comes to combating anti-LGBT attitudes.