The National Hockey League has partnered with the anti-homophobia You Can Play Project, the Hockey News reports: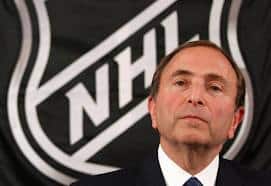 "I'm very proud that the National Hockey League and NHL Players Association are the ones taking this step and breaking new ground," Philadelphia Flyers scout and YCP co-founder Patrick Burke told THN late Thursday morning. "The big shift is that this is a professional sports league saying not that, 'We tolerate you,' not that, 'We'll deal with it if we need to,' but that they're inviting us in. It's exciting."
"Our motto is 'Hockey Is For Everyone,' and our partnership with You Can Play certifies that position in a clear and unequivocal way," added NHL commissioner Gary Bettman (pictured). "While we believe that our actions in the past have shown our support for the LGBT community, we are delighted to reaffirm through this joint venture with the NHL Players' Association that the official policy of the NHL is one of inclusion on the ice, in our locker rooms and in the stands."
The partnership, which was signed as a legally binding document by the three parties this week, will see You Can Play (a) conduct seminars at the NHL's annual rookie symposium to educate players on gay equality issues; and (b) integrate YCP's message of respect for all into the league's Behavioral Health Program by allowing players to confidentially seek counseling or education. As well, YCP will work with the league to create and broadcast public service announcements promoting equality for all.
More at THN…