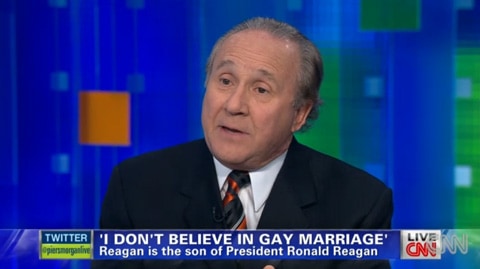 In a column published earlier this week, Ronald Reagan's son Michael demanded "moral outrage" from churches over same-sex marriage and said it's a "slippery slope" to alternative relationships and amoral things like polygamy, murder, and sex with animals.
He joined Piers Morgan last night to defend his remarks, reiterating that marriage equality would lead to polygamy, and then suggested that he makes such remarks just to get on TV:
"I pay attention to what's being said in courtrooms. These are the questions being asked of those people fighting for gay marriage. So, why aren't you upset with everybody else? Why are you only upset with me? If I don't mention those things also, to tell you the truth, you don't invite me on."
Watch, AFTER THE JUMP…