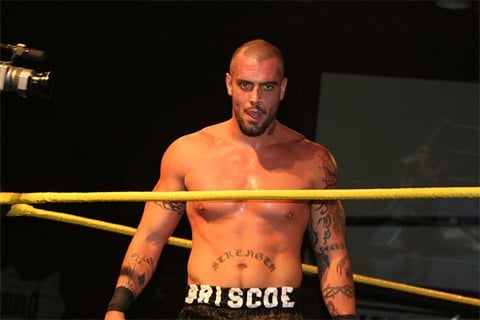 Pro wrestler Jay Briscoe, who currently wrestles with Ring of Honor, Combat Zone Wrestling, and Pro Wrestling Guerilla, and is the current Ring of Honor Chammpion with his brother Mark Briscoe, made some disgusting comments on Twitter yesterday morning following the passage of marriage equality in Delaware.
Said Briscoe: "The Delaware Senate passed a bill yesterday that allows same sex couples to get married. If that makes you happy, then congratulations!!!!! … try and teach my kids that there's nothing wrong with that and I'll f**king shoot you"
Briscoe's Twitter account is offline as of this moment but I screencapped the tweets last night (below).
And he's being blasted by a couple of sports writers, like Matt Bishop:
If a WWE wrestler made these statements, it would probably be pretty close to the end for them. Luckily for Briscoe, ROH is so far under the radar that he'll likely skate on these statements.
And Keith Harris at SB Nation:
However, even if he wasn't the Ring of Honor World Champion, Jay Briscoe's latest homophobic outburst on Twitter should not only embarrass ROH management, but also the whole wrestling industry. It's one thing to politely disagree with gay marriage, quite another to say that you would commit acts of violence on anyone who teaches your children that it's OK.
This is much worse than TNA World Heavyweight Champion Bully Ray recently using gay slurs to trash talk a ringside fan. Ray was a heel who went too far in his attempts to generate heat whilst in the zone performing. It was a dumb move, but at least he and Dixie Carter quickly apologized for his indiscretion.