The Church of Scotland today narrowly approved a rule which would allow gay and lesbian ministers, reports The Guardian:
The church's ruling general assembly voted to allow congregations to admit gay ministers but only if they specifically elect to do so, in a radical departure from more than 450 years of orthodoxy set in train by the protestant reformer John Knox.
Despite the new regulations, the general assembly voted down a proposal that would have made acceptance of gay and lesbian clergy the church's default position by a vote of 340 to 282.  The new rule will effectively decentralize the decision-making process, leaving it to individual congregations to choose whether or not to ordain gay ministers in a system known as a "mixed economy."
According to The Guardian, the new rule will likely not take effect until 2015, and must first be written into church law and approved by next year's general assembly.

The BBC adds that the push for consideration of gay clergy began when the first gay minister was appointed by the church four years ago:
The dilemma faced by the Church of Scotland goes back to 2009, when the openly gay minister Scott Rennie (below) was appointed to the Queen's Cross parish in Aberdeen.

He was backed by most of his congregation and by the General Assembly, but the decision resulted in protest and the break-away of a small number of congregations and ministers.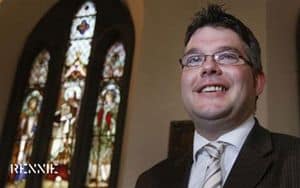 In 2011, the Church of Scotland's general assembly voted to allow gay and lesbian clergy to remain in their posts, as long as they were either celibate or in civil partnerships.
The church's new rule comes at a time when the debate over marriage equality is in full swing in the UK and the issue of allowing gays to marry in religious ceremonies has caused significant division.  
The UK House of Commons is scheduled to debate the Marriage (Same Sex Couples) Bill today–which would establish marriage equality in England and Wales but not Scotland–although advocates are wary of a last minute push by opponents of marriage equality to include a provision that would extend civil partnerships to opposite-sex couples.  The proposed legislation would allow same-sex couples access to civil marriage ceremonies only, and would bar them from marrying in the Church of England or the Church of Wales.
In December of last year, the Scottish government announced its own draft legislation to legalize marriage equality in the region, and is currently seeking public feedback on the measure.  Under the Scottish proposal, religious institutions would be allowed to "opt in" to wedding gay and lesbian couples.  Up until this point, the Church of Scotland has opposed the marriage equality bill, and while it seems unlikely that will change any time soon, the inclusion of gay clergy is certainly a step towards greater acceptance of the Scottish LGBT community.