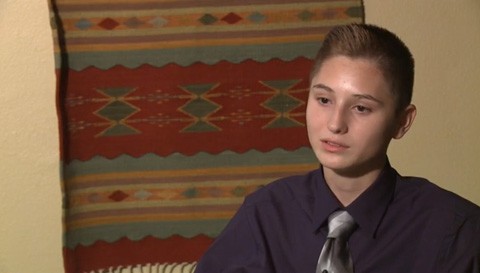 An Albuquerque, New Mexico Catholic school is demanding that Damian Garcia, a trans student, wear a girl's gown to graduation. Damian was born Brandi Garcia but identifies as a male, had a name change last year, and is known as Damian to students, teachers, and his parents, but the Superintendent of Saint Pius insists he is a girl and must wear a white robe.
Damian's father is angry about the humiliating treatment, KRQE reports:
"I look at him and I call him my son. That's how he wishes to be acknowledged is as a male," said father Luis Garcia.
The Saint Pius Superintendent tells KRQE News 13, Saint Pius goes by what the student's birth certificate says if there's any question on what gender-color they wear at graduation.
Says Damian: "I just want to walk in my black robe, nice and proud and have that memory to look back on with my family and friends. I would rather not walk than to embarrass myself by wearing a female robe."
Watch, AFTER THE JUMP…