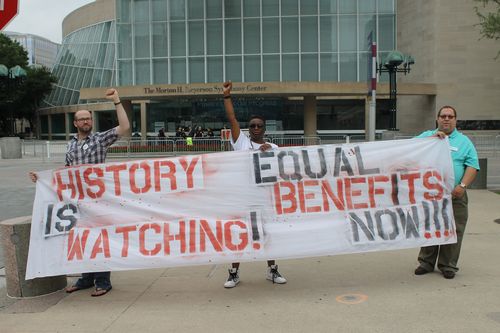 (image The Dallas Voice)
This should come as a shock to absolutely nobody: oil giant ExxonMobil's shareholders have once again voted down a proposal that would have provided employment discrimination protections to the company's LGBT employees.
The Dallas Voice reports on the outcome of ExxonMobil's yearly shareholders meeting in downtown Dallas:
Shareholders voted to reject a resolution, 81 percent to 19 percent, from the New York state comptroller calling for the company's Board of Directors to add sexual orientation and gender identity/expression to the oil giant's EEO policy. The 19 percent support for the resolution reportedly was the lowest ever.

George Wong addressed the shareholders on behalf of the New York State Common Retirement Fund. He presented the business argument that the company should recruit from and retain the widest possible talent pool. Failure to do that leads to less efficient business operations. Most Fortune 500 companies do have inclusive nondiscrimination policies including most other major oil companies, he said.

During general comments, no one else supported the nondiscrimination proposal.

ExxonMobil has the lowest score ever received by a company in the Human Rights Campaign's Corporate Equality Index, meriting a -25 rating for rescinding LGBT discrimination protections and cancelling domestic partner health benefits when Exxon acquired Mobil in 1999.  Other oil companies, such as Chevron, BP, Shell and Spectra, have received scores of 85 or higher.
Last week, Freedom to Work, an LGBT rights organization that focuses on employment issues, filed a complaint with the Illinois Department of Human Rights alleging that the company engages in discriminatory hiring practices.  In its piece on the complaint, the Huffington Post explained the suit's basic argument:
Jennifer Priston and Michelle Caland are similar in many respects. They both live in Springfield, Ill., attended the same high school and graduated from the same local community college in 2011 after majoring in business administration.

Caland and Priston are also both the inventions of activists, and their fake resumes are now the fodder for a complaint filed against Exxon Mobil, a company gay-rights advocates say is the largest Fortune 500 company to continue to discriminate against gay, lesbian and transgender employees.

On Dec. 4, Freedom to Work, a gay-rights organization that focuses on workplace discrimination, submitted fake resumes for each character for an administrative assistant position at Exxon's Patoka, Ill., office. Only "Caland" got a request for a follow-up interview and activists contend in a complaint filed this week that it's because of one particular item on her resume that set her apart from 'Priston:" Caland volunteered as a secretary for a feminist group, while Priston served as a treasurer for a local chapter of the Victory Fund, a gay-rights organization.