France's Constitutional Council has approved the marriage equality bill, denying a challenge from opposition groups, and the measure is now set to become law, The Local reports: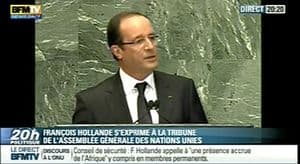 France made history on April 23 when it became the 14th country to vote gay marriage into law but opposition UMP deputies referred the bill to the Council, which has the right to throw it out if it is against the country's constitution.
However "les sages" as the council members are known has suggested they would not intervene with the wishes of parliament and on Friday they stuck to their word.
A statement by the council, however, said that gay adoption did not automatically mean the "right to a child" and that the "interest of the child" would be the overriding factor in such cases.
All that remains now is for Francois Hollande (pictured) to sign the bill into law, which he is expected this week. The first gay weddings could take place as early as June, although some mayors across the country have refused to administer the ceremonies.