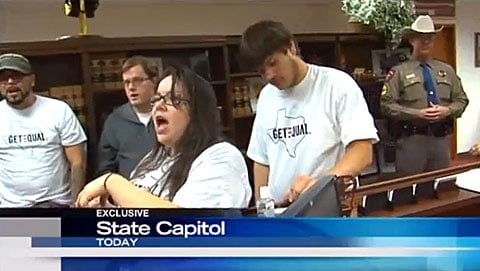 Five gay activists from the group GetEQUAL Texas were arrested on Wednesday after refusing to leave the offices of four Republican senators who refuse to support Senate Bill 237, the Fair Employment Act, KEYE reports:
Michael Diviesti of GetEQUAL TX says, "What the bill does is says 'hey look, if you live in Texas you can't fire somebody simply because they happen to be gay or lesbian or bisexual or transgender.' You have to have a real reason to fire someone or deny them employment."
We tried to speak with all of the four senators who the protesters say are not supporting the bill, none could speak to us on camera. Senate Bill 237 is currently stuck in committee, where it's been for the last month. It will stay there until it gets the votes needed to move to the next level.
Watch, AFTER THE JUMP…