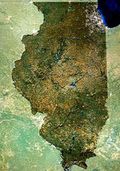 SB10, the marriage equality bill, appears on page 4 of today's calendar for the Illinois House of Representatives, suggesting that the chamber WILL take up the issue today at some point, though it's unclear when.
Today is the final day of the session.
The House resumes its business at 9:30 am CT.
A rally is plannined at the State House in Springfield at 11 am and people are being bussed down from Chicago for it.
Sixty votes are needed to pass the measure. It's unclear at this point how many there actually are.
Stay tuned…