As lawmakers in Minnesota's House prepare to consider a marriage equality bill tomorrow, advocates of the bill are proposing a change to state law that would add the word "civil" in front of marriage in a hope to get GOP lawmakers on board, the Star Tribune reports: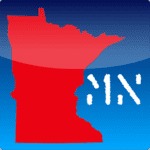 Freshman Republican Rep, David FitzSimmons, R – Albertville, has offered the change. FitzSimmons could not be reached for comment. It is not clear whether the change will prompt him to vote for the measure.
"Minnesotans United supports this amendment, and we will encourage the members of the Minnesota House of Representatives to support it as well," said Richard Carlbom, campaign manager for Minnesotans United, the lead group pushing for same-sex marriage. "Representative FitzSimmons' amendment affirms the fact that Minnesotans want same-sex couples to have the freedom to marry in our state while also ensuring that clergy members and religious institutions are free to practice their beliefs free from government intrusion."
The House will vote on the measure Thursday, but so far not a single Republican House member has indicated their support for same-sex marriage.
Advocates are hopeful about the bill's chances. If it passes, it could go to the state senate as early as Saturday.