Amani Toomer and Bruce Murray interviewed Minnesota Vikings running back Adrian Peterson, the reigning NFL MVP on Thursday, asking him what his feelings are about same-sex marriage: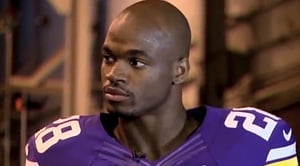 "To each his own, (but) I'm not with it. I have relatives that are gay. I'm not biased towards them. I still treat them the same. I love them. But, again, I'm not with that. That's not something I believe in. But to each his own."
Peterson also commented on the recent loss of his teammate, outspoken punter Chris Kluwe, and said that he didn't believe it was Kluwe's views which led to his dismissal:
"It hurt me to see him leave. He was a good friend of mine and a really cool guy – probably one of the smartest guys I've ever been around. (He's) different. I'm sure the Vikings organization didn't release him based on [his gay rights advocacy]. They've been knowing him for a long time. They know he's outspoken."