Rhode Island's marriage equality law will be signed on Thursday afternoon on the south steps of the State House, Governor Lincoln Chafee announced yesterday.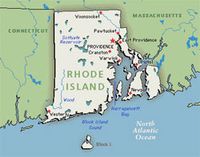 The bill must go through one more largely procedural vote in the House, the AP reports:
The outcome of Thursday's House vote is not in doubt, as the House overwhelmingly passed an earlier version of the bill in January. The Senate passed the bill by a comfortable margin last week, but it had to return to the House because of small changes made in the Senate.
Soon, all of New England will have marriage equality as Rhode Island becomes the 10th state in the union to embrace it.
Watch a video from Chafee's swearing in in January 2011 in which he calls on lawmakers to introduce and pass a marriage equality bill, AFTER THE JUMP…
It's finally here.