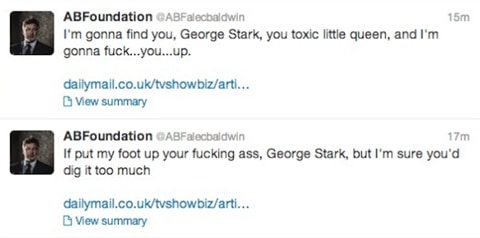 On Friday, we reported that Alec Baldwin had deleted his entire Twitter account after unleashing a tirade against a Daily Mail reporter in which he characterized the reporter as a "toxic little queen" and called on his followers to "straighten out this f*cking little bitch." The rant occurred after the Daily Mail incorrectly reported that Baldwin's wife, Hilaria, was tweeting from James Gandolfini's funeral. 
Now, Baldwin is speaking up about the incident and attempting to apologize for his language. The following is taken from an interview Baldwin did with Gothamist later that day. 
Says Baldwin:

"The idea of me calling this guy a 'queen' and that being something that people thought is homophobic…a queen to me has a different meaning. It's somebody who's just above. It doesn't have any necessarily sexual connotations. To me a queen…I know women that act queeny, I know men that are straight that act queeny, and I know gay men that act queeny. It doesn't have to be a definite sexual connotation, or a homophobic connotation. To me those are people who think the rules don't apply to them. This guy could blatantly lie, I mean blatantly lie about my wife on the internet and there are just no rules that apply to him, but that's outrageous to me….if what I said offended everybody, that obviously wasn't my intention. I'm not interested in offending anyone. If homosexuality was an issue for me, I would have moved out of New York years ago. I find that laughable."
Baldwin also released a statement to GLAAD, saying "I have worked, periodically, with numerous marriage equality organizations, especially over the past couple of years, to achieve the very rights that gay couples are earning by recent court decisions. I would not advocate violence against someone for being gay and I hope that my friends at GLAAD and the gay community understand that my attack on Mr. Stark in no way was the result of homophobia. As someone who fights against homophobia, I apologize." 
GLAAD Vice President of Communications Rich Ferraro replied to the apology sent to GLAAD with the following: 
"Alec Baldwin is making it clear that the intent behind his tweets does not excuse his language, especially at a time when there were 11 incidents of violence against gay men in New York City just last month. As we all work to end such senseless acts of violence, allies like Baldwin are right to use these moments to reinforce support for the community and LGBT equality."