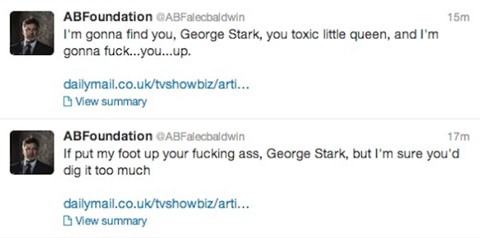 Alec Baldwin deleted his entire Twitter account after unleashing a tirade against a Daily Mail reporter in which he characterized the reporter as a "toxic little queen" and threatened to "f**k [him] up" by inserting foot into said reporter's ass.

Gawker reports that the rant happened after the "Daily Mail published a report that Baldwin's wife had tweeted throughout Gandolfini's funeral service."
"Queen" appears to be one of Baldwin's favored slurs. In 2011, he made a few headlines with a similar Twitter rant, although that one was directed at an "uptight queen" Starbucks barrista named Jay with an "attitude problem."
Baldwin's entire tirade, AFTER THE JUMP…