Despite the recent failure of a bill in Colombia's senate that would have legalized same-sex marriage, gay couples in Colombia may soon be able to wed.
In 2011, Colombia's Constitutional Court ruled that the nation's Congress must pass "comprehensive, systematic, and orderly legislation" by June 20, 2013 to correct the imbalance between rights afforded to heterosexual and homosexual couples. However, with the deadline only days away and no new legislation in place, it is uncertain how court officials will interpret the high court's ruling, The Washington Blade reports: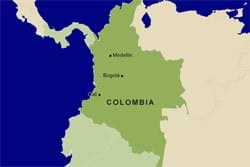 "Marcela Sánchez Buitrago, executive director of Colombia Diversa, an
LGBT advocacy group, told the Washington Blade on Monday that some
notaries have already said they will not marry same-sex couples after
the court's deadline passes. They would instead allow them to enter into
a 'solemn contract' that is similar to an agreement between two people
who buy a house together.
'This in the view of Colombia Diversa does not comply with the Constitutional Court's order,' Sánchez said.
Colombia Diversa and other LGBT advocacy groups are advising couples
who encounter a notary or a judge who refuses to allow them to register
their relationships–or enter into a civil marriage as Sánchez and other
activists have described it–to petition a court to reverse the decision.
Lina Cuéllar, director of Sentiido, an LGBT website
she co-publishes in Bogotá, the country's capital, told the Blade she
expects some notaries and judges will accommodate gays and lesbians in
the same way they treat heterosexual couples."
The Blade notes that Colombian President Juan Manuel Santos' administration has remained silent on this issue, casting further doubt as to what the government's official response to the Constitutional Court's order will be come June 20. Should notaries and judges allow same-sex couples to marry, Colombia would join Argentina, Brazil and Uruguay in being the only South American countries to have legalized same-sex marriage.