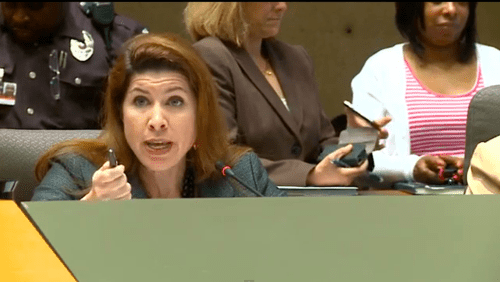 At a Wednesday morning Dallas city council meeting, outgoing Councilwoman Angela Hunt expressed her disappointment over the city's failed marriage equality resolution and made an impassioned speech for gay rights moving forward. Dozens of LGBT rights supporters showed up at the meeting as well to vent their frustration over the resolution, which died after mayor Mike Rawlings and other council members balked on a council vote.
"I think discussion is good, but friends, this is a simple issue. You either support civil rights or you don't," Hunt said. "Know that there are many of us on the council who stand with you and will stand with you on this issue. It is a civil rights issue. We will be there on marriage equality. We will stand with you. Let's not let any diversion about process distract us from the real issue."
Hunt is leaving the council because of term limits, and says she regrets not being able to vote "yes" on the resolution. Fortunately, the two candidates vying to replace Hunt were seated with the LGBT speakers in the audience in a show of support.
Scott Briggs, the council member who originally offered the marriage equality resolution, predicts it will pass once it makes it onto the council's voting agenda. That all depends, however, on preventing candidates like this from taking office.
Watch the speech, AFTER THE JUMP…