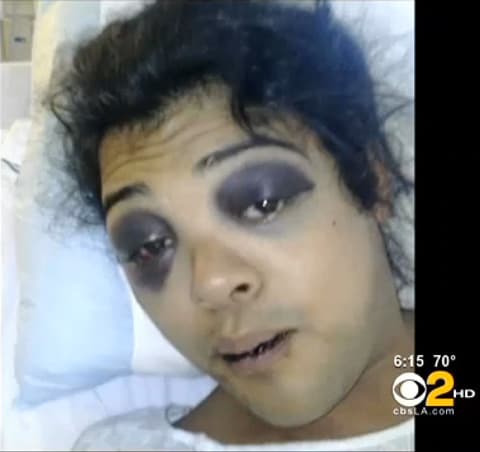 Victor Diego, a 22-year-old employee of Beso, a Hollywood restaurant owned by actress Eva Longoria, sustained fractured ribs, a shattered cheekbone, and a broken jaw in an attack on Thursday night police are investigating as a hate crime, CBS LA reports:
Diego, who is a gay and transgender man, was dressed up to hang out with friends.
"Sometimes men try to talk to him and they get humiliated in front of their friends when they realize it's a man," said his sister, Virginia Diego.
"Because he looks really good, he looks like a woman, you couldn't tell the difference," she said.
His sister said the assailants kicked him in his temple, which will require surgery.
"He was basically left for dead just because of who he is," said Virginia.
Watch, AFTER THE JUMP…
ps – it's not clear at the moment whether Diego identified as a man or a woman, given the information in the report that he is gay and trans. For now, based on his relatives' statements we are identifying him as a man. If that is clarified to be different, we will update our post.
UPDATE from GLAAD:
While previous information regarding the victim's gender identity was unclear, the Los Angeles Police Department has now clarified that the victim's name is Vivian and she uses female pronouns. At this point, the victim's preferred last name has not been released.
In a story for the local CBS affiliate in Los Angeles, the victim's sisters suggested that their sibling was dressed in women's clothes at the time of the attack. The reporter told viewers that the sisters described their sibling as "gay and transgender" and they used a male name to refer to her. Moving forward, media outlets should refer to Vivian with female pronouns and the name she gave to the LAPD.
Vivian's sisters also referred to the attack as a "hate crime" but the LAPD's investigation has yet to confirm a motive for the crime. If it is confirmed to be a hate crime, it should be referred to as an anti-transgender hate crime, not an anti-gay hate crime.