Josh Duggar, the oldest of the Duggar children from TLC's 19 Kids and Counting, has accepted a job as Executive Director at the FRC Action group of Family Research Council, the SPLC-designated hate group run by Tony Perkins, GLAAD reports: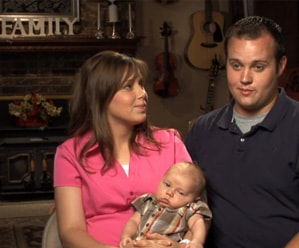 Duggar has said in the past that he "will be working with a Christian organization to help promote 'family values and right to life."  But FRC has spent  decades attacking same-sex couples and their families, as well as the families of LGBT young people. Duggar said that he will be working on the 501c4 side of the organization, which is more politically driven. He can't even claim he's just going to shape the culture.
Now that Josh Duggar has accepted a position at such an anti-gay organization, he has become a full-fledged anti-gay activist. What does this mean for TLC's 19 Kids and Counting? Will TLC allow it to become a mainstream outlet for FRC's dangerous message? What about the Duggar family's appearances in other media? Will his work with one of the most vile anti-gay organizations in America be legitimized there?
"If Josh Duggar wants to make a living dehumanizing and denigrating LGBT people and their families, that's his business, but FRC's lies and stereotypes need to be treated as such," said GLAAD Spokesperson Wilson Cruz. "Josh's new boss Tony Perkins has actually accused LGBT equality advocates of being pawns of the devil.  Fans of his family's reality show ought to know that."
Listen to Duggar make the announcement, below:
Jeremy Hooper at Good As You adds:
Not only is Josh going to work at FRC, but he's actually going to work on the action side. This kid is going to head up FRC's Political Action Committee! This means that he won't even be able to claim he's just commentating or advocating or something else that sounds sweet and innocent. No, no—this reality TV scion is going to be heading up the wing of FRC that goes against us on the hill, in state legislatures, at the ballot box, etc. He has taken a position that directly seeks to stop (or even rollback) our rights and protections!
Look, it's his life, his career, and his choice. In terms of the gig itself, I say bring it! I'm more than ready to challenge whatever he plans.
But don't even try, TLC network, to position Josh's story as something that should warm the fires within my own heart and home. That ship has sailed. This TLC star is going to be paid to spearhead a quest that seeks to diminish, if not completely extinguish, all that I hold dear within my own marriage, family, and home. Forget carefully edited reality TV—for me and millions of others, this crap just got really real. For real.