As reported earlier, the Pew Research Center recently published the results of its' first survey focusing solely on lesbian, gay, bisexual and transgender respondents. In addition to the information gleaned about the process of coming out, the survey asked a number of other questions of particular relevance to LGBT individuals. Interestingly, while a vast majority of respondents feel more accepted, they still face significant adversity, Time Magazine reports: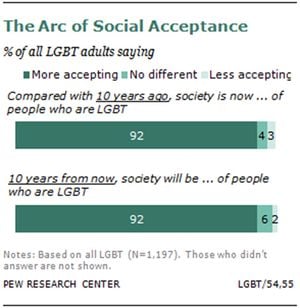 "Paul Taylor, executive vice president of the Pew Research Center, tells
TIME, '9 in 10 of LGBT surveyed feel they have become more accepted in
the past decade and just as many say they expect the acceptance to
increase in the coming decade. In our business, when you see those
numbers, that's pretty dramatic. But that needs to be kept in
perspective, because while these are the best of times, that doesn't
mean it's the easiest time. Even in a time of feeling more socially
accepted, fewer than 6 in 10 have told their mothers about their sexual
orientation or gender identity and fewer than 4 in 10 have told their
fathers–that suggests the complicated realms of their lives.'
While the survey indicated that the group as a whole is more more
satisfied with the direction of the country than the general public, its
members have frequently faced rejection and discrimination in the past.
About 60% say they have been the target of slurs or jokes. 40% said
they were rejected by a close friend or family member due to their
sexual orientation or gender identity. 30% say they had been physically
attacked or threatened, and 21% claim they have been unfairly treated by
an employer.
Respondents felt bisexual women were the most accepted by society while transgender adults were the least. They also felt that lesbians were more readily accepted than gay men.
Among other results noted by researchers, the group surveyed showed a proclivity for political involvement:
"5 in 10 say they have both bought products made by a company that's
LGBT friendly and have refused to buy products from companies that were
not. 3 in 10 have donated to politicians who support LGBT rights.
Besides the hot political button of same-sex marriage, employment
rights, HIV and AIDS prevention are also top issues they feel most
strongly about."
In case you missed it, be sure to check out Time's stunning covers from this past March declaring, "Gay Marriage Already Won."