A Communist group in Russia says Elton John's outfits are "gay propaganda" and plans to protest his concert unless he wears more suitable attire, RIA Novosti reports: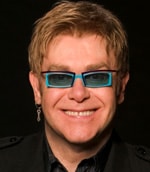 The singer, who is scheduled to play the city of Krasnodar on July 14, should wear "more respectable" attire when he performs, like a knee-length caftan, a fur hat and leather boots, said Mikhail Abramyan, head of the local branch of the Communists of Russia, not to be confused with the much larger Communist Party of the Russian Federation.
"We hope he'll wear it," Abramyan said, adding that the show's promoters had rejected the idea. Abramyan said his group, which numbers 350, was ready to take to the streets in protest.
Madonna was sued for $10 million for violating the Russian law but the suite was later thrown out of court. Madonna also spoke out for gay rights at her concert. Will Elton do the same?