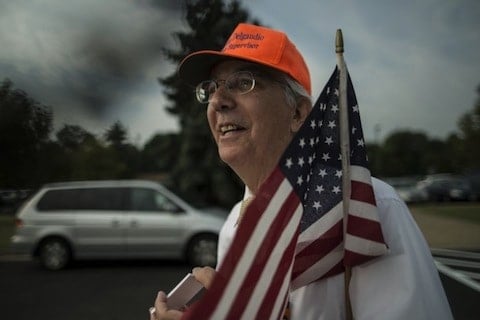 The Republicans of Loudoun County in Virginia have a line, an ethical bridge too far, and after four re-elections Supervisor Eugene Delgaudio (R-Sterling) finally crossed it. It wasn't that the Virginia GOP finally tired of his rabid, vicious anti-GLBT bigotry and perpetual demonization of homosexuals or that he's the head of the SPLC-certified hate group Public Advocate of the United States. It's that he misused county funds.
That's right, it's not the years of embarrassingly loud wing-nut bigotry beyond even the level of Ruben Diaz (D-New York) that got him in trouble, it's money.
According to the Loudoun Times the Grand Jury report…
"…highlights testimony of a harsh working environment in the supervisor's office, a lack of focus on constituent services and a likely, but not blatant, misuse of county resources."
Delgaudio was also accused of misusing his staff by directing them to not address constituent concerns and to report directly to an executive director at Public Advocate. As a result, a vote by county Republicans to censure Delgaudio passed by 8-1 with Delgaudio offering the only dissenting vote. He has been stripped of any power to serve on standing committees or regional partnership organizations, and his district office funds have been moved to a corporate board budget to be used under direction and approval of the full board.
Stand by for a breathless email money beg somehow blaming this on homosexual activists.