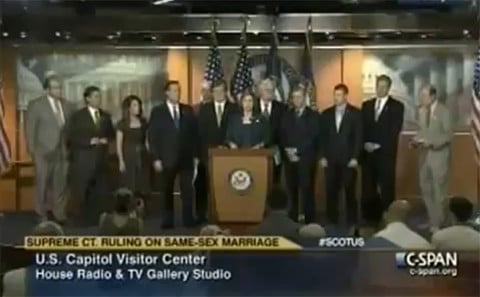 After spending more than $2 million defending the federal Defense of Marriage Act (DOMA) in a number of cases, House Republicans announced Thursday they would no longer defend the law in a case before the U.S. District Court of Massachusetts citing The Supreme Court's ruling in United States v. Windsor, BuzzFeed reports. The announcement came via a legal filing from the House Bipartisan Legal Advisory Group (BLAG), a group controlled by House Republicans. In the case in question, McLaughlin v. Panetta, servicemembers challenged not only section 3 of DOMA, but also, "Title 38 of the U.S. Code regarding veterans' benefits that define 'spouse' as 'a person of the opposite sex.'" In their filing, the BLAG lawyers state:
"The Supreme Court recently resolved the issue of DOMA Section 3's constitutionality. See United States v. Windsor, 570 U.S. __ (2013), 2013 WL 3196928 (U.S. June 26, 2013). The Windsor decision necessarily resolves the issue of DOMA Section 3's constitutionality in this case. While the question of whether 38 U.S.C. § 101(3), (31) is constitutional remains open, the House has determined, in light of the Supreme Court's opinion in Windsor, that it no longer will defend that statute. Accordingly, the House now seeks leave to withdraw as a party defendant."
Michael Steel, spokesman for Speaker of the House, John Boehner, weighed in with a curt, "The document from the legal team speaks for itself." HRC President Chad Griffin noted the stunning nature of the Republican reversal, stating, "After millions of taxpayer dollars wasted defending discrimination, it's a historic sign of the times that the House leadership is dropping its pointless quest to maintain second-class status for lesbian and gay couples." House Minority Leader Nancy Pelosi called for House Republicans to drop their involvement in the remaining cases to which they are a party defending DOMA and similar statutes. Pelosi spokesman Drew Hammill told BuzzFeed:
"The Supreme Court's ruling is clear. Rather than trying to delay justice for particular married gay and lesbian couples and their families, Speaker Boehner should immediately file motions to end House Republicans' involvement in the remaining cases and stop spending taxpayer dollars to defend unconstitutional discrimination."
Check out the filing in full AFTER THE JUMP…