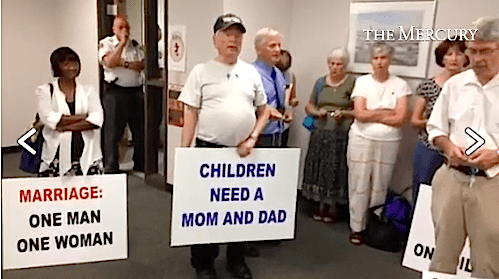 On Wednesday, we reported on Montgomery County officials issuing the first same-sex marriage licenses in Pennsylvania history. Officials there cited Windsor v. United States as well as the ACLU's current suit in federal court to overturn Pennsylvania's gay marriage ban as motivations to be "on the rights side of history and the law."
Needless to say, this has ruffled the feathers of social conservatives in the state. On Friday, about 20 members of a pro-life group gathered outside the Montgomery County Courthouse to bring attention to what they called a "war waged on children." Mainline Media News reports: 
Pumping signs in the air that read, "stop the war on children" and "marriage = man & woman," the Pro-Life Coalition of PA addressed a throng of reporters urging Register of Wills/Clerk of the Orphan's Court D. Bruce Hanes to stop writing marriage licenses to gay and lesbian couples.
By the end of day Friday, 26 such licenses ad been issued by the county.
…
"It's not about love. It's about children," said Michael McMonagle, president of the Pro-Life Coalition. "There's a thing called just discrimination. For example, should blind people be allowed to vote? Of course they should, because not being able to see has nothing to do with having the right to vote. Should blind people get a driver's license? Of course not, because being able to see is essential to being able to drive.
"Heterosexuality is essential to the meaning of marriage. Civil government has an interest in producing future children. It's utter arrogance to think that we can redefine the institution that has been the bedrock of all society throughout history."
In addition to stopping Hanes, McMonagle said the coalition came out to push two other main points – to urge District Attorney Risa Vetri Ferman to press charges against Hanes for breaking the law and for Gov. Tom Corbett to "zealously defend Pennsylvania's marriage law."
After assembling outside, the group marched across the street to the Register of Wills office. Once inside, they stood and recited a prayer in unison before dispersing later that day.
Watch a clip of the indoor protest, AFTER THE JUMP…